This 4.3inch color touch screen smart wifi thermsotat is designed for boiler heating, water heating and electirc heating system.It works by sensing the air temperature, switching on the heating when the air temperature falls below the thermostat setting, and switching it off once this set temperature has been reached. it allows users to select different temperatures in your home at different times of the day to meet particular user's needs and preferences. 
1. Compatible with electric floor heating or most boiler/water heating systems.
2. Control from anywhere with internet anytime.
3. Works with Amazon Alexa, Google Assistant
4. 0.5℃ temperature accuracy with an adjustable temperature of 5-35℃.
5. 4.3inch color touch screen, covered by elegant glass panel. Minimalist design that fits any decoration style.
6. Save your heating cost with a 7×24 hours smart graphic schedule. Never worry about arriving home with a cold room, or leaving the house with the system heating.
7. Open window detection function. Automatically stop heating when the open window is detected. Save more on your heating bill.
8. Integrated and external dual temperature sensor system, either one of them can be used for temperature control.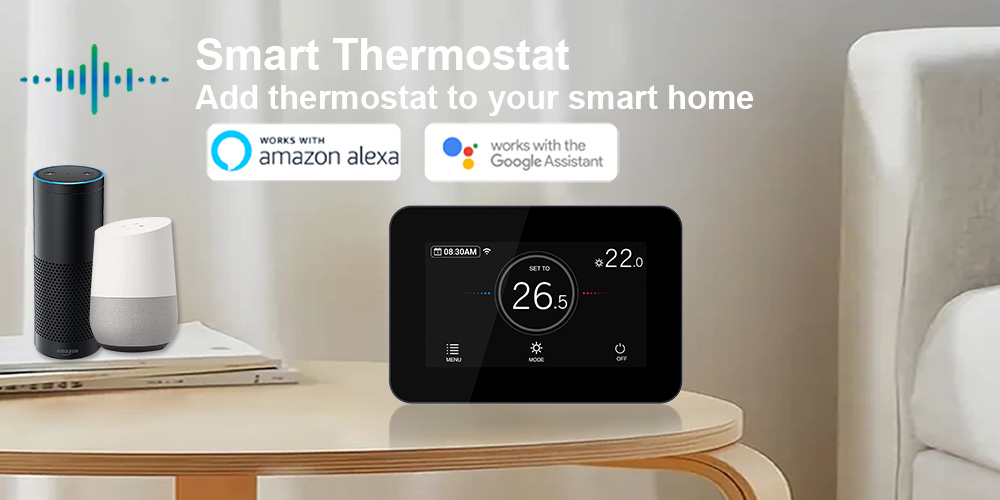 How to install HT-CS03 with my boiler/water/Electic heating system?
You can install this new smart thermostat with your system according to the diagram below. The sensor connected to terminal 6,7 is optional. 
1. Gas boiler heating system.(Control the boiler with thermostat)
2. Water underfloor heating system(Control the thermal actuator with thermostat, support both 2-wire actuator and 3-wire actuator).
3. 16A electric Floor Heating System 
---
---