This Etop new zigbee programmable thermostat is designed for underfloor heating system. By working with tuya Zigbee gateway, users can remote control etop thermostat anytime anywhere. It works by sensing the air temperature, switching on the heating when the air temperature falls below the thermostat setting, and switching it off once this set temperature has been reached. it allows users to select different temperatures in your home at different times of the day to meet particular user's needs and preferences. 
Functions:
a. 3A for water/hydronic floor heating system control or 16A for electric floor heating. 
b. 7 days 4 periods programmable 
c. Frost protection 
d. Open window protection 
e. Child lock 
f. WIFI remote control (Optional) 
g. Alexa and Google Home voice's control (Optional)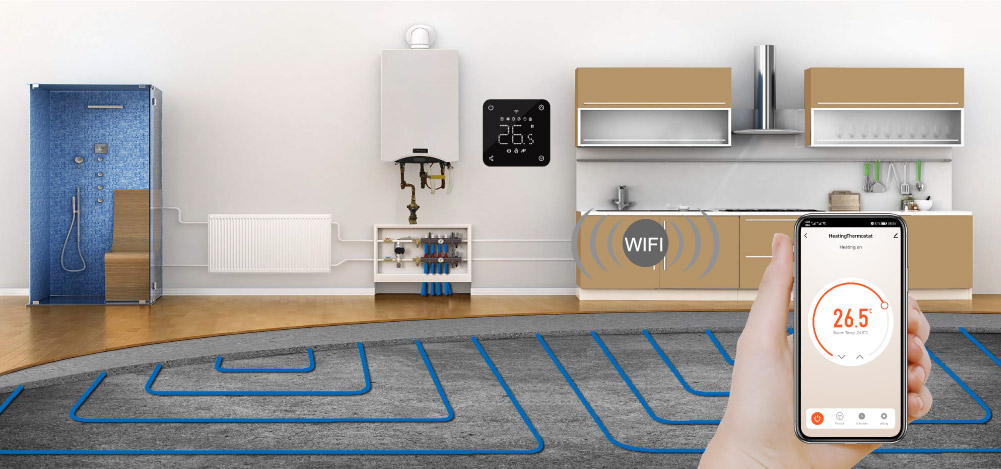 How to install HT-22 with my boiler/water heating system?
You can install the HT-22(for boiler/water system version) with your system according to the diagram below. The sensor connected to terminal 6,7 is optional. 
Gas boiler heating system.(Control the boiler with thermostat)
Water underfloor heating system(Control the thermal actuator with thermostat, support both 2-wire actuator and 3-wire actuator).
 How to install HT-22 with my boiler/water heating system? 
Please following below wiring diagram 
---
---